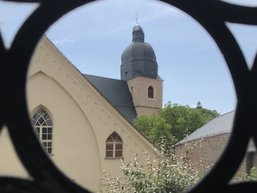 Terra Lu is the group travel specialist for religious travel in Central Europe. Our origin is Terra Lutherana, the land of Martin Luther, recognizing that the Reformation movement changed lives, churches, and the society in many countries and denominations. The Terra Lu experience started in 1990. From that time on, more and more groups from congregations, schools, and universities have used the inside knowledge of Terra Lu Travel.
Terra Lu Travel was founded and is owned by Christian Utpatel. In addition to his travel expertise Christian also is an ordained Lutheran pastor and bus driver. Also Daria Klevinghaus, Terra Lu's office manager, studied Religious Education. They both have been involved in many projects in the field of "church and tourism." Christian was the director of the Contact Office for Church and Tourism for the LutherYear 1996. Facing the Luther Year 2017, he developed the marketing campaign for Wittenberg county. Since 2011 the "Luther500 Festival", developed and operated by Terra Lu Travel, takes place every other year in Lutherstadt Wittenberg. Terra Lu Travel is the German travel partner of "Refo500," an international project that seeks to demonstrate the continuing relevance of the Reformation through books, seminars, art exhibitions, teaching materials and travel opportunities. Just in 2017, which marked the 500th anniversary of the start of the Reformation, Terra Lu groups celebrated about 75 worship services in the historic churches in Wittenberg outside opening hours. Three children have been baptized in the church where Martin Luther was baptized.
Looking forward to 2020, Terra Lu Travel is one of the leading suppliers in Germany for the Oberammergau Passion Play. We know this is not just a Theater play. Playing the passion is a very early form of Christian education, like the nativity play at Christmas Eve. For groups travelling to the Passion Play, we do not only arrange tickets and hotels. But, if requested by the group, we take care about mass services and devotions. It's all about the Passion of Jesus Christ, the most important story mankind has to tell.
Oberammergau also is close to many sacred places, shrines, and monasteries. A pilgrimage day in Altötting with a visit in the birth house of Pope Benedict XVI. is only one of many options. Whether a group is of Lutheran heritage or Roman-catholic, Baptist or Reformed or Orthodox: We value your faith, and will make sure that your tour is more than just travel, but a spiritual experience and pilgrimage.